We've rescheduled this event to August 7th, more details here.
We've cancelled this event on account of the covid situation, please find more information here.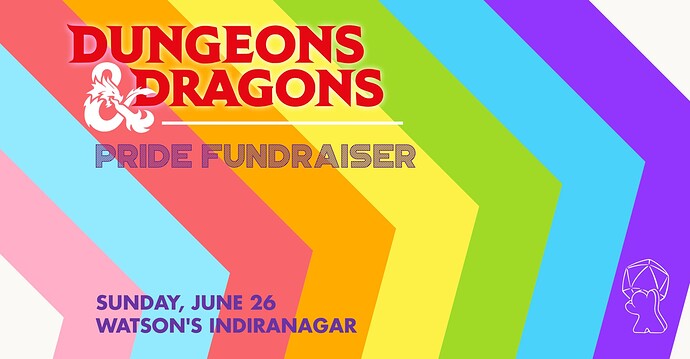 Where: Watson's, Indiranagar, Bangalore (Google Maps)
When: Sunday, 26th June, 11am to 5pm
Price: Rs. 500 (inclusive of a Rs. 200 cover charge)
Tickets: Dungeons & Dragons - A pride fundraiser with ReRoll Board Games
Overview
Hello adventurers! We invite you to an afternoon of tabletop role playing games. It's a beginner-friendly event where you'll get to be part of an epic adventure taking place over several hours, all while raising money for pride!
Doesn't matter if you are a new player or experienced one. You can choose which adventure you want to participate in (else we can assign you one)
All the proceeds will go to an organization working towards a better, safer, and more equitable world for LGBTQIA+ people and their families in India. (more details to follow).
How to register:
Buy a ticket at the event link at the top of this post (or click here).
Come back here and request to the join the players group (it will ask for your ticket confirmation code)
Once your group membership request is accepted, you can pick an adventure from the Adventure Board and register for a specific adventure!
Player Table Allocations
Please make sure you've joined the players group before choosing a game, else you won't be able to reply to the posts on the Adventure Board.
Interested in DMing?
We are also looking for more Dungeon Masters to help run sessions, since more DMs = more space for players


If you are interested in DMing, please reach out to @inputj via private message on this forum, or you can reach out to us on our Discord.