Join us for an afternoon of Dungeons & Dragons (and other TTRPGs) and raise some money for pride!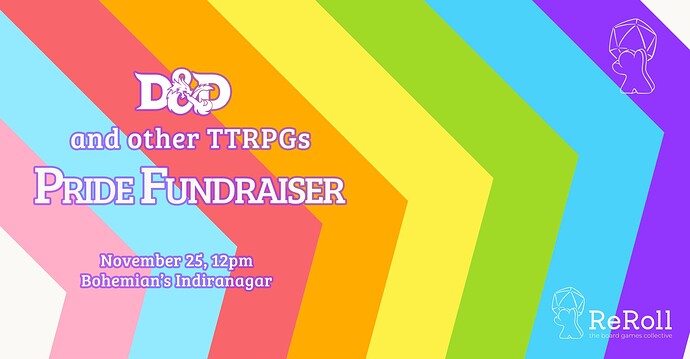 Where: Bohemians, 12th Main, Indiranagar (Google Maps)
When: 12 noon, Saturday, 25th November
Price: Rs. 300 onwards (you are requested to donate directly)
Tickets: Register for the event!
This is a beginner friendly event aimed at absolute newbies, though experience D&D players are welcome too).
It's a 4-5 hour session where you'll join ~4 other players in a self-contained adventure. We'll teach you all the rules, you just have to show up!
This event is in support of Swabhava Trust

Swabhava works with the LGBTQIA+ and other gender or sexuality communities and has operated a telephone helpline (Sahaya- 080-22230959) providing counselling to these communities. They also conduct research, documentation, cultural events and host support spaces.

For Bank Transfers
Account name : Swabhava
Account number : 12262000000922
Account: Current
IFSC code : HDFC0001226
Bank Address : 4th T Block, Jayanagar,
Bangalore 560041

UPI
Please note, this is a temporary arrangement as we work with the bank on getting an exclusive UPI id for the current account listed above.
UPI: swabhavatrust@okhdfcbank

Before the event:
Your DM may have specific instructions for you, please make sure to read your adventure fully before the event.
Make sure to reach the venue atleast 15 minutes before (11:45am). If you are late we might not be able to hold your seat.
We will not be able to accommodate last minute changes since DMs require time to prepare the adventure.
Please bring and wear a mask by default. Be mindful of other people at your table. If everyone is okay to play without them, that is fine but just be sure to discuss it with your table and respect choices.
If you have any questions please feel free to DM @inputj or @karthikb351. You can also talk to other attendees on the pride-fundraiser-nov25 channel on our discord. You can join the discord by clicking here .
Note: If due to any reason we have to change your table on the day of the event (due to a DM being unable to come, or not having enough players at the table), we will try our best to reallocate you to a different game. We unfortunately cannot offer refunds for this event.
Adventures
Please select your game when purchasing a ticket - just replying to the adventure on the forum is not a confirmation.