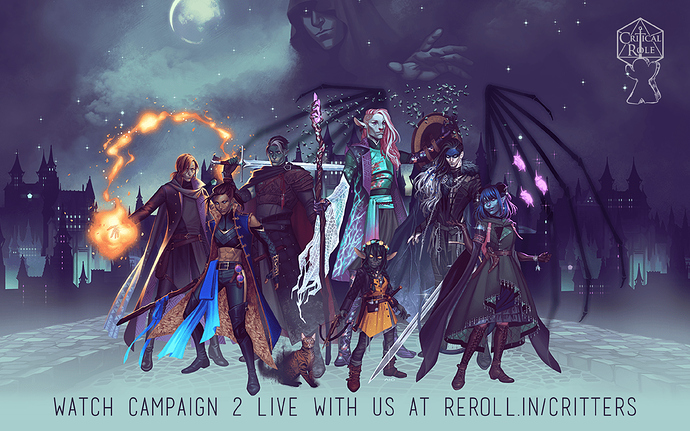 After the success of our Episode 100 watch party, we're planning to make this a regular feature every Friday.
So as The Mighty Nein embark on their adventures across Exandria, you can join fellow Indian critters and watch the episode together every week on Friday night.
Each episode actually premieres live on Fridays at 7:30AM IST, but they rebroadcast it at 9:30PM IST as well, which is the one this watch party if for.
So whether you watch the episode in the morning or join us for the watch party at 9:30PM, we invite all of you to join us on our Discord server to chat with fellow critters in India!
To join, just click this big button :

We are committed to providing a friendly, safe, and welcoming environment for all, regardless of gender, gender identity and expression, sexual orientation, disability, personal appearance, age, religion, caste, nationality, or other similar characteristic. Participation in this forum as well as in our Discord server is contingent on accepting the ReRoll Code of Conduct - which can be found at https://reroll.in/code-of-conduct.
For those who don't follow Critical Role, they are a bunch of nerdy-ass voice actors who sit around and play Dungeons & Dragons and livestream it on twitch.tv. You're welcome to join us if you are all caught up (or don't mind the spoilers of jumping into the middle of campaign 2)