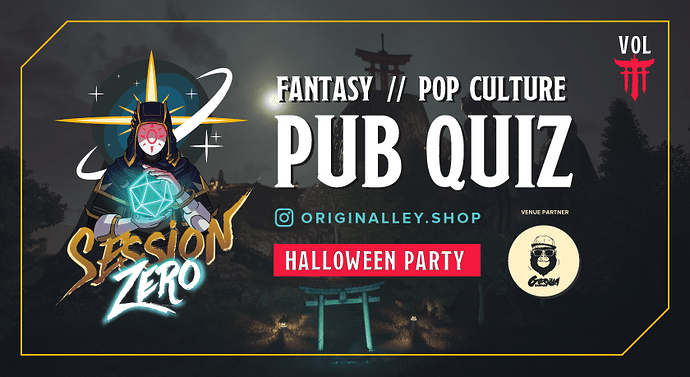 Greetings Adventurers!

Origin Alley is back with our third [and most spooky] installment of Session Zero

Date: Sunday, 29th October 2023


Venue: Gorilla Barfare, Koramangala, Bangalore

The Crew wants to take all of you adventurers on a wild ride to commemorate the end of Spooktober 2023. So buckle up as we journey across dark lands filled with ghastly horrors, grisly ghouls, and monsters spawned from the depths of nightmares.
Volume 3 will feature:
A fantasy/horror pub quiz
Casual cosplay contest
The Origin Alley Store
Tavern mini-games for all you adventurers to participate in for some laughs (and maybe some shots)
We will also be launching new products at the event to which all of you will get exclusive first-look access so you don't want to miss it!
The first couple of events were a big success for a small business like ours so we'd love to keep the momentum going and push ourselves to new heights with the brand. As always: cosplay and role-play are heavily encouraged to make this experience unique for everyone involved and considering it's a Halloween party, we're doubling down on this request!
So keep your lights on and wait for the dawn, adventurers! More news on the event will be coming up on our socials @originalley.shop and this page.
Hoping to see you all soon!